Custom PSA Nitrogen Generator For Food Packing Machine With Oil Free Compressor
Nitrogen Generators, Air Compressors, Oxygen and Other Gas Processing Equipment
Nitrogen Generator for Food Packing Machine with Oil Free Compressor
Brief Technical Parameters index

1.) Nitrogen flow: 30Nm3/h.
2.) Nitrogen purity: 99.99%.
3.) Nitrogen pressure: 0.1-0.5 Mpa, adjusatble
4.) Nitrogen Gas Dew Point: -28 degree celsius. Can be lower according customer requirement
The Whole Nitrogen Generation System Includes :
Air Compressor
Air Storage Tank
Refrigeration dryer& Precision Filters
Nitrogen Generator (Includes control system, adsorption towers, buffer tanks, etc)
Nitrogen Storage Tank
Nitrogen Booster/Compressor (high pressure choose)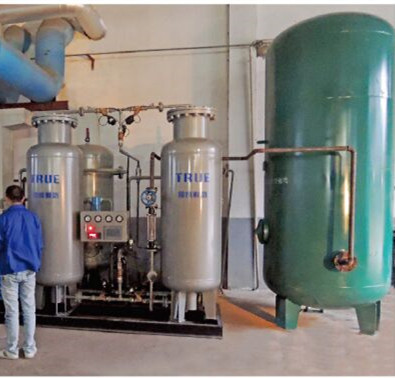 Technical Details
Description
Type
Quantity
Remarks
PSA adsorption tower
Professional design

2 pieces

/10kg

Jiangyin Shuangqiu
CMS
CMS220
227kg
Made in China
Vortex airflow
Professional design
2 pieces
Technical Carbotech from Germany
Self complement compact device
Professional design
2sets
Jiangyin Tongyue
single unit processing part
/
1 set
SMC-Japan
Sample pressure reduce valve
/
1 piece
SMC-Japan
Direct current 24V power
/
1 set
Taiwan-Mingwei

Pneumatic valves

DN20
Burkert Germany,approve
DN25
10 Piece
Magnetic valve
3V210-24V
10 pieces
Taiwan Airtac
Metal flow meter
LZZ-40
1 piece
Changzhou Shuanghuan
Control system
TPC7062K
1set
(color touch screen )Kunlun Tongtai
Muffler
TY-300X
1 set
Jiangyin Tongyue
Pipe valve system
bprofessional produce
1 set
Jiangyin Tongyue
PLC controller
S7-200
1 set
Siemens Germany
Nitrogen analyzer
P860-5N
1 set
Shanghai Changai
Features
1. The nitrogen purity can be adjusted from 95%-99.99%. The nitrogen gas is dry and its dew point is low, these help to preserve the food.
2. The machine features excellent cost effectiveness and fast capital payoff.
3. Its exterior is concise and small, so is to be conveniently cleaned and meet the high cleanliness requirement of the food industry.
4. The product is made of high quality equipments and its skillfully process makes itself durable in use.


After Service:

1) Debugging

Nitrogen generator is a simple machine, many customers can debugging themselves according to our drawing and operation manual.

And if you require our technica person come to your factory to guide debugging,it's also be ok.We have a after service team. They can train your operating team in your factory.


2) Spare Parts Service

We will supply spare parts for 1 year free.


3) Maintenance

All the details you can follow our operation manual ,and if can't solve problem, please contact our after service department,they will help to solve your problem.