TY 3-99.9% PSA nitrogen generator can be removeable for army vehicle tyer charge
Nitrogen Generators, Air Compressors, Oxygen and Other Gas Processing Equipment
TY 3-99.9% PSA nitrogen generator can be removeable for army vehicle tyer charge
Jiangsu Tongyue Gas System Co.,ltd. establish in 2011,specializes in the production of nitrogen generators, air compressors, oxygen and other gas processing equipment. The products are widely used inOil and gas industry ,medicine, chemical industry, chemical fiber, metallurgy heat treatment, electronics, steel, coal, and other industries.
Our company has a number of patented technologies and intellectual property rights. Till now we have 8 engeineers,60 employees.We insists on using high-quality imported parts, having established and improved production processes, quality control system, and after-sales service evaluation system, to provide best service to each customer.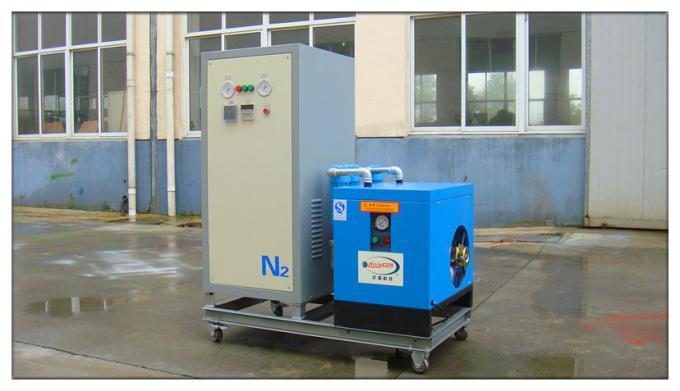 PSA N2 making processing
(1) Inlet air:The air compressor press the air into transporting pipe,then use the compressed air clarification system to remove the water,oil,dust and so on,reach to air buffer tank,then pass through air buffer tank into two adsorption tower.
(2) Adsorption: When air inlet adsorption tower,during the pressure function,O2 and CO2 be adsorbed quickly.Formed N2 near the outlet position.
(3) Air outlet :When the adsorption process working in the best status(Adsorption N2:O2 is the smallest),open the outlet valve,transport the N2 into N2 buffer tank.
(4) Average pressure:After finished exhaust,rest some N2 in the tower,so let it into another tower adsorb again with new air.This process is finished when the pressure of two tower is the same,so called average pressure.
(5) Exhaust :After average pressure finished,need to releasing the air which adsorb by CMS to be ready for next adsorption,the programme will open the air releasing valve automatically,let the pressure in the tower back to the original status,meanwhile release the O2,CO2,so than the CMS can adsorb new air again.
(6) These two tower exchange work can got N2 purity 99.9 %
Please check below chart of CMS adsorb under different pressure of O2 and N2 :
Main parts of nitrogen generator
Project
Type
Quantity
Remark
PSA adsorption tower
Professional design
2pieces/10kg
Special pressure vessel manufacturer
Carbon Molecular Sieve
MSC-3KT-172
3500kg
Takeda Japan
Vortex airflow distributor
Professional design
2 pieces
Technical Carbotech from Germany
Self complement compact device
Professional design
2sets
Jiangyin Tongyue
single unit processing part
/
1 set
SMC-Japan
Sample pressure reduce valve
/
1 piece
SMC-Japan
Direct current 24V power
/
1 set
Taiwan-Mingwei

Pneumatic valves

Pneumatic valves

DN100
5 pieces
Burkert Germany Burkert Germany
DN50
4 pieces
DN20
1 pieces
Magnetic valve
4V210-24V
10 pieces
Taiwan Airtac
Metal flow meter
LZZ-50
1 piece
Changzhou Shuanghuan
Control system
TPC7062K
1set
(color touch screen )Kunlun Tongtai
Muffler
TY-500X
1 set
Jiangyin Tongyue
Pipe valve system
bprofessional produce
1 set
Jiangyin Tongyue