Chemical Onsite Nitrogen Generator , Carbon Steel PSA Nitrogen Plant
Nitrogen Generators, Air Compressors, Oxygen and Other Gas Processing Equipment
Chemical Onsite Nitrogen Generator , Carbon Steel PSA Nitrogen Plant
TRUE nitrogen generator function:
1, Strict air treatment system
2, Unique low-speed diverter and non-friction soft compaction device
3, durable pneumatic valve
4, low-noise silencer of innovative design
4, unique touch switch and LCD in the nitrogen industry; Data can be modified arbitrarily
6, of high automation and can be duty-free
5, of reasonable and compact structure
6, efficient nitrogen-making in short period
Technical advantages of filling the molecular sieve
The following two diagrams are the density of the storm loading method and the aging frequency modulation filling method (Tong Yue), which show the technical advantages of Tong Yue.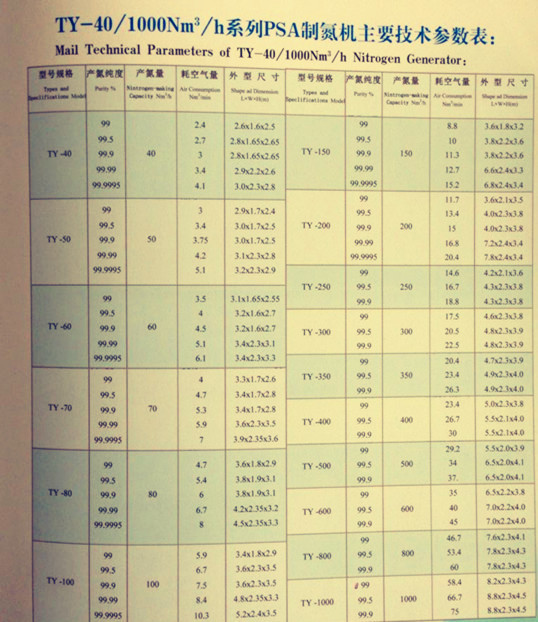 Fully intelligent, automated, easier to operate
Microcomputer control and (industrial computer system) touch screen control are built in the machine. From the microcomputer touch screen, we can understand the nitrogen generator as follows:
(1) Real-time working condition, total running time, working process and opening and closing statement of the valve.
(2) When operating, just need to turn on and off the machine, set the parameters and view the system fault information through the touch screen.
It truly realizes the unattended duty, intelligent and automated operation of the equipment. It can function as the real-time monitoring equipment of the user's control room. If required, we can monitor distantly parameters such as the flow of finished nitrogen, purity, pressure in the user's DCS system.
The enterprise attaches great importance to technological innovation and intellectual property protection work. Up to now, there have been a total of 9 patents declared, 7 of which have been authorized.
| | | | |
| --- | --- | --- | --- |
| serial number | Patent No. | Patent No.( Accept No.) | patent families |
| 1 | PSA highly efficient starting device | Patent No.:ZL 2010 2 0139342.9 | utility model |
| 2 | Automatic control system of nitrogen generator with frequency conversion | Patent No.:ZL 2012 2 0408277.4 | utility model |
| 3 | Exhaust gas recycling and utilization device | Patent No.:ZL 2013 2 0867590.9 | utility model |
| 4 | Automatic control device for nitrogen purity | Patent No.:ZL 2013 2 0867632.9 | utility model |
| 5 | PSA constant pressure constant regeneration system | Patent No.:ZL 2010 2 0139343.3 | utility model |
| 6 | PSA cyclone umbrella type honeycomb air flow diffusion device | Patent No.:ZL 2013 2 0139344.8 | utility model |
| 7 | PSA low decibel silencer | Patent No.:ZL 2013 209 39345.2 | utility model |
| 8 | Top gathering fountain type gas collecting device | Patent No.:ZL 2010 2 0569506.1 | utility model |
| 9 | Dynamic cylinder pressing device | Patent No.:ZL 2011 2 0015073.X | utility model |
Project
Type
Quantity
Remark
PSA adsorption tower
Professional design
2pieces/10kg
Special pressure vessel manufacturer
Buffer tank
Air tank,N2 tank
Each 1 piece/3m3
Special pressure vessel manufacturer
Carbon Molecular Sieve
MSC-3KT-172
3500kg
Takeda Japan
Vortex airflow distributor
Professional design
2 pieces
Technical Carbotech from Germany
Self complement compact device
Professional design
2sets
Jiangyin Tongyue
single unit processing part
/
1 set
SMC-Japan
Sample pressure reduce valve
/
1 piece
SMC-Japan
Direct current 24V power
/
1 set
Taiwan-Mingwei

Pneumatic valves

Pneumatic valves

DN100
5 pieces
Burkert Germany Burkert Germany
DN50
4 pieces
DN20
1 pieces
Magnetic valve
4V210-24V
10 pieces
Taiwan Airtac
Metal flow meter
LZZ-50
1 piece
Changzhou Shuanghuan
Control system
TPC7062K
1set
(color touch screen )Kunlun Tongtai
Muffler
TY-500X
1 set
Jiangyin Tongyue
Pipe valve system
bprofessional produce
1 set
Jiangyin Tongyue
PLC controller
S7-200
1 set
Siemens Germany
Nitrogen analyzer
P860-4N
1 set
Shanghai Changai